An ADSL filter separates the analogue voice-frequency signals from the ADSL (broadband) data signals(Broadband being defined as data transfer greater than 128KBPS.)
If ADSL filter/splitters are not used, the ADSL data signals are heard as "noise" on any equipment connected to the "normal" telephone-line. Apart from being annoying during a telephone conversation, there is the possibility that the additional ADSL signals may cause problems with alarm-units (etc) that may be connected across the line.
This ADSL-interference is illustrated in the diagram below that shows how the unfiltered ADSL data signals appear across the "standard" telephone equipment.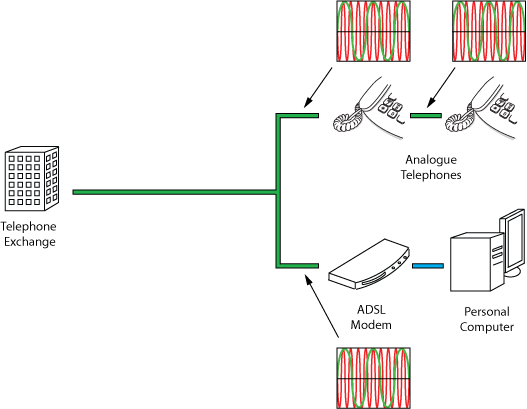 ADSL In-line Filters and filter/splitters are used in the customer's premises to separate ADSL data from analogue speech signals and prevent interference between the two types of service. Our unique Central Filter/Splitter is ideal for new installations where star or delta-star premises wiring is planned. Components inside a normal telephone (high capacitance across the input, impedance mismatch etc) can interfere with the high frequency ADSL signals resulting in the attenuation of those signals. ADSL data signals can be heard as noise on telephones (some phone electronics can demodulate high frequency signals outside it's operating range to voice frequency noise).
A well-designed ADSL filter's specifications demonstrate the ability of its low pass filter to block the ADSL high frequency signals from reaching the analogue device whilst at the same time providing isolation from any impedance effects of the analogue device on the ADSL transmission. The filter should also attenuate any wideband impulse noise generated by the analogue device due to the interruption of loop current (e.g. pulse-dialing or on-hook/off-hook conditions). Because the filter connects directly to the subscriber's loop media, it must also provide some surge protection from externally induced voltage which could damage any attached equipment or endanger humans interacting with the installed equipment. Additional surge protection measures are built into our ADSL filters to protect against line surges that could damage the filter itself.
The following drawing shows how an ADSL filter/splitter attenuates or blocks blocks the ADSL data-signals from appearing across the "standard" telephone equipment eliminating annoying noise during a telephone conversation and removing the source of potential problems with alarm-units (etc) that may be connected to the line. Notice that signals in the 300Hz - 3.4KHZ band also appear at the input to the ADSL filter. These low-band signals have no effect on the operation of the ADSL modem.
---
In a similar manner, In-Line Filters attenuate (block) frequencies above 3.4kHz to prevent the ADSL frequencies from interfering with the analogue equipment and to prevent the analogue equipment from having an adverse impact on the performance of the ADSL data connection.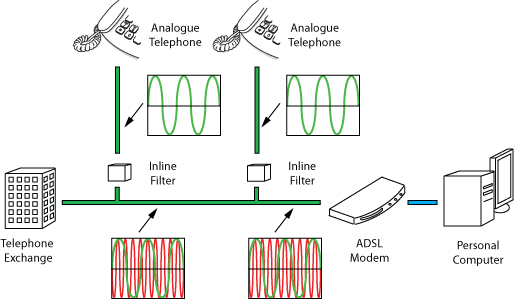 ---
The two diagrams below represent typical ADSL installations and indicate where the voice-call and ADSL bandwidths appear at different locations.
---